Turk
⊛ Increases Lean Muscle Tissue*
⊛ Improved Performance and Muscular Endurance*
⊛ Promotes Fat Loss*
⊛ Improved Recovery*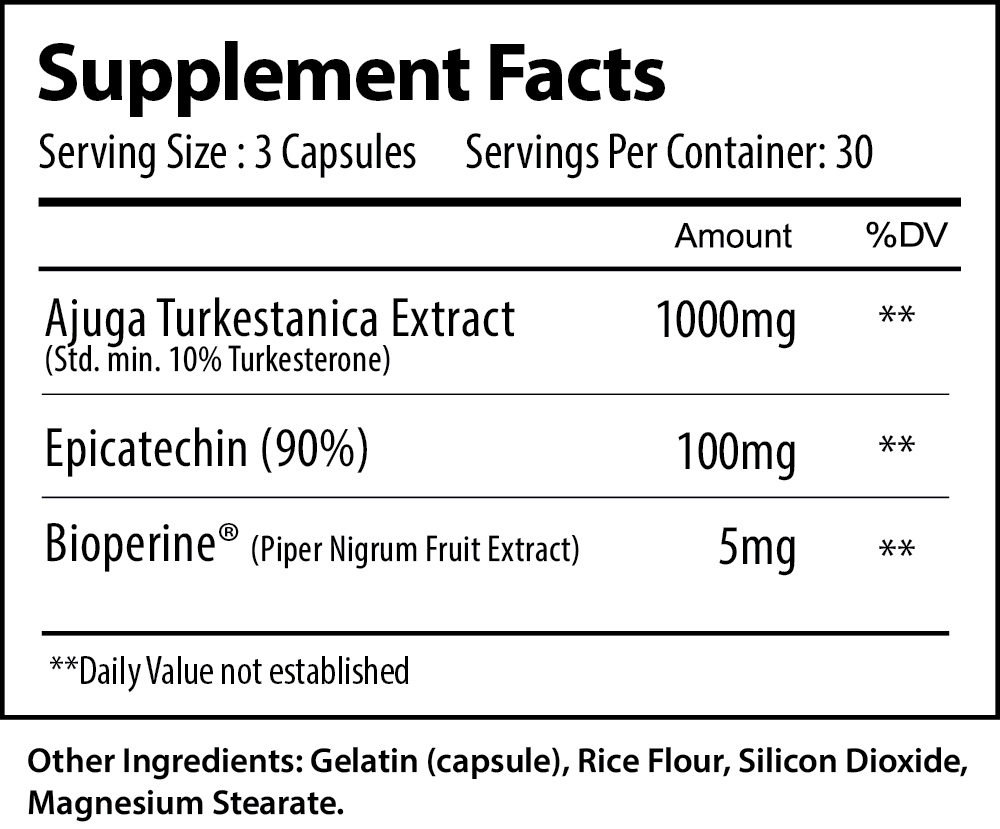 KEY INGREDIENTS
Turkesterone:
This Ajuga Turkestancia Extract, Turkesterone, is extracted from the Maria Root or Leuzea plant that has recently exploded within the fitness market due to it's ability to promote anabolic properties within the body. It comes with the benefits of increased testosterone, without actually showing an increase in free testosterone, and does not bind to androgen receptors. Which means that you get the muscle growth, and fat-loss effects without any nasty side effects or needing to PCT.*

Turkesterone works by regulating a stable balance in the adrenal, pituitary, and hypothalamic glands. These three glands separately produce hormones that help regulate blook pressure, immune system, mood, vision, and growth. By bringing these there glands in harmony, Turkesterone enables users to increase their muscle mass, improve recovery, enhance workloads, and stimulate gains during training.*

Epicatechin:
Epicatechin is a bioactive compound classed as a flavonol, a plant based phytochemical which is found in a number of foods. Studies have uncovered a plethora of benefits that Epicatechin brings, including, enhancing muscle growth and strength, increasing nitric oxide production for improved vascularity, lowering cholesterol levels, and improving brain and heart health. These far-reaching benefits make epicatechin a worthwhile addition to your supplement arsenal whether you're looking to build muscle, burn fat, or increase athletic performance.*

Research with epicatechin indicates that it increases levels of follistatin, a special type of protein found in the muscles, which binds to and thereby inhibits the actions of myostatin in the body. In a nutshell, more follistatin equals less myostatin, which in turn means more muscle mass.*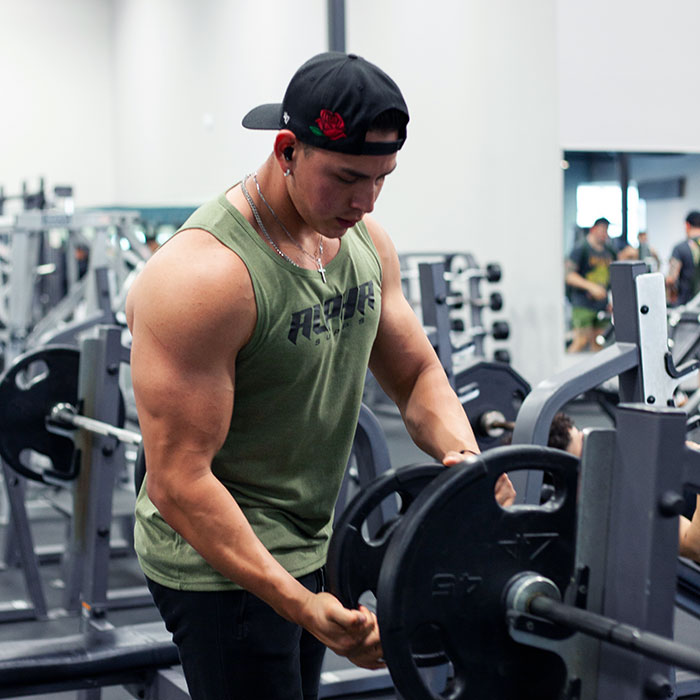 Description
We've made yet another breakthrough in muscle-science.* Creating a natural product that can take anabolic properties to the next level. Alpha Turk is a natural blend of plant-based ingredients featuring Turkesterone.*

Formulated to improve body composition, increase muscular endurance, improve recovery time, and enhance muscle growth naturally.* Also included is Epicatechin, which has shown to enhance muscle growth, increase nitric oxide production, improve vascularity, and improve strength naturally.

Turkesterone and Epicatechin are perfectly unified to create the strongest natural anabolic supplement on the market.*
THE ALPHA DIFFERENCE
ALPHA Supps has over 25 years of combined experience in the supplement industry, with a team that carries the same drive and passion for health and fitness. We formulate supplements, not only for athletes and fitness enthusiasts, but for every person with goals alike, that align with your goals in order to CONQUER your day and your goals.
HOW TO USE
*These statements have not been evaluated by the Food and Drug Administration. This product is not intended to diagnose, treat, cure or prevent any disease.
Notice improvements in the gym!
I'm really liking how I feel throughout my day with Turk. I'm stacking this with T-Rise and I have a more intense drive during my workouts. I'm more ambitious with my lifts and my mood is great. At 46 yrs old this is definitely a great asset in my daily supplement intake.
USTEDES ME FALLARON NO CUMPLIERON CON LA ENTREGA Y SE QUEDARON CON MI DINERO , CUALQUIER COMPANIA RESPONSABLE SABE QUE SI NO ENTREGARON EL PAQUETE Y LO DEVOLBIERON PARA ATRAS LO DESENTE SERIA DEVOLBER EL DINERO Y NO APROPIARSE DE ESO, PERO TRANQUILO PERDIERON UN CLIENTE QUE CONSUME MACHAS VITAMINAS Y NO SE LOS RECOMENDARIA A NADIE , CALIDAD DEL SERVICIO,,, 0,,,,F
Fat loss
It works amazing, I shredded fat quick taking this while working out and doing cardio and strength training!