Are you looking for your package?
Please examine your front porch, side door, back porch, garage, bushes, and mailbox to ensure nothing is concealed or obstructed. Also, verify with your neighbors to see if they got it for you. Please contact us if your delivery has not arrived after three days.
We ship exclusively to the United States. Please allow 3–4 business days for your order to be processed due to high order volume.
On weekends or holidays, we do not ship.
*For shipping status updates on your order, please contact the carrier (UPS, USPS, DHL, or DHL Express).

Alpha Supps is not responsible for stolen or missing shipments that have been reported as delivered by the carrier. We do not issue refunds or credits for shipments for which the carrier has confirmed delivery.
This consists of the following:
Orders were lost due to an incorrect address provided by the consumer (incorrect street name, apartment number, street number, etc.).
Orders that have been rejected or have not been claimed.
For lost orders due to an incorrect address, unclaimed orders, or orders that were refused, please contact your mail carrier with your full name and tracking number.

Standard shipping takes 5-7 business days, excluding weekends and federal holidays.

If your order's tracking information indicates that it was delivered, but you have not received it, we will assist you in filing a claim with the carrier. Claims assistance requests must be submitted within seven business days of a delivery being marked as delivered.
***
We cannot guarantee that we will be able to reship or refund your order simply because you filed a claim. When the investigation is concluded, our decision will be based on the carrier's findings.
***
To learn more about the claims process, please review the following information and links.
Please contact the carrier to submit a claim or check its status:
USPS
https://www.usps.com/help/claims.htm
- USPS claims can take up to 25-30 business days to process.
FEDEX
https://www.fedex.com/en-us/customer-support/claims.html
-FEDEX Claims can take up to 10-15 business days to process.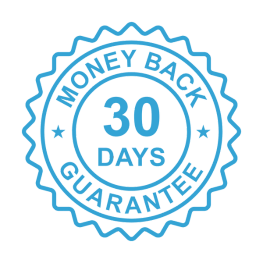 30 Days Money Back Guarantee
All items are eligible for a one-time full refund if the return is initiated within 30 days of receiving the product, even if the product was used or opened.
To receive credit for the money-back guarantee, you must return the bottle, even if it is empty. Valid only once per product, per household, for one 30-day supply.

INTERNATIONAL/MILITARY SHIPPING
International/Military orders may be delayed due to customs duty fees and transit — arrival is expected up to 14 business days after purchase. International packages may be subject to customs and duties. ALPHA SUPPS IS NOT LIABLE FOR CUSTOMS AND DUTIES CHARGES.
Please be advised that if you purchase from our website and refuse the package at any point OR refuse to pay customs, you will not be eligible for a refund for the package due to fees incurred by us returning the package.
PLEASE BE ADVISED THAT: Each country has its own set of rules regarding what ingredients can and cannot be imported. Ingredients like Melatonin and Yohimbine may be prohibited from entering your country. We strongly advise contacting your customs agency for a complete list of what your country allows to be imported before making a purchase. If your order is seized by customs for any reason, we will NOT issue you a refund (minus shipping) unless ALL products are returned to our warehouse in the original condition as described in the return policy above.
It is also the customer's direct responsibility to collect the parcel from the foreign postal administration, and failure to do so for any reason will result in no refund of shipping charges once the order has been returned to sender.
The goods will be imported on the consignee's/e-behalf. buyer's Alpha Supps has been authorized by the consignee to import the goods on their behalf. Furthermore, the consignee/buyer agrees that Alpha Supps may delegate to a subcontractor the obligation to import the goods on their behalf (e.g., customs broker). The taxes and duties will be paid by the consignee in addition to the purchase price of the goods.
Please be aware that there may be minor delays in the delivery of your package, as carriers may require more time depending on your location. Under normal circumstances, our international shipping takes 7-14 business days.

If you have any further questions about the process or whether you are eligible for a refund, please contact us at info@alphasupp.com, and we will respond as soon as possible.