PRE
⊛ Long Lasting Extreme Energy*
⊛ Laser Sharp Focus*
⊛ Increased Nitric Oxide Levels without the Itching*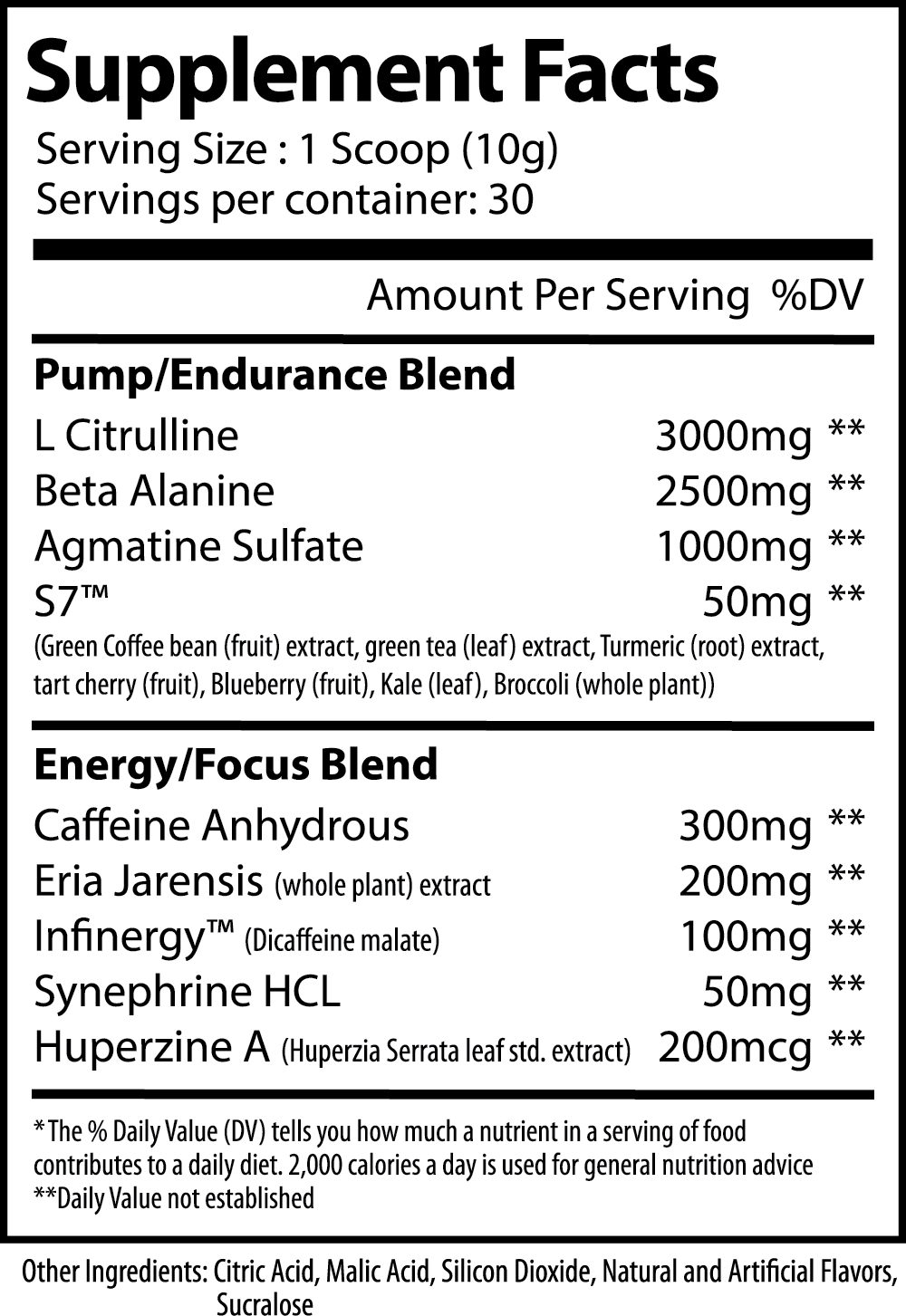 KEY INGREDIENTS
100mg Infinergy:
Patented ingredient developed by Creative Compounds

Infinergy is simply caffeine bonded to malic acid. It operates similarly to caffeine, but it has one distinct difference – due to the presence of malic acid, dicaffeine malate takes longer to stimulate. Because it takes a bit longer to get going, it acts as almost a secondary jolt in energy, helping to keep energy levels high as caffeine anhydrous begins to wear off!*

50mg S7®:
S7® is a low dose blend of seven plant-based ingredients that has been clinically shown to increase nitric oxide by 230%!*

Our bodies already produce nitric oxide, signaling the blood vessels to relax, thus increasing blood flow. This aids an athlete by delivering more oxygen, fuel, and other key nutrients to exercising muscles during training.*

This clinically researched plant-based sports nutrition ingredient triggers the best kind of nitric oxide, your body's own internal NO.*

1000mg Agmatine Sulfate:
Agmatine Sulfate improves your exercise performance, boosts nitric oxide levels, and nitric oxide is important for cellular metabolism.*

Eria Jarensis:
Eria Jarensis is a stimulant which has recently become very popular in many pre-workout supplements. Eria Jarensis is what's referred to as a "Neuromodulator" which affects the central nervous system and provides energy and focus. What is most noticeable to users, is the additional increase in mood and the positive sense of well-being. This is due to it's ability to increase noradrenaline and dopamine levels which users sense a feel of heightened alertness, enhanced focus and concentration.*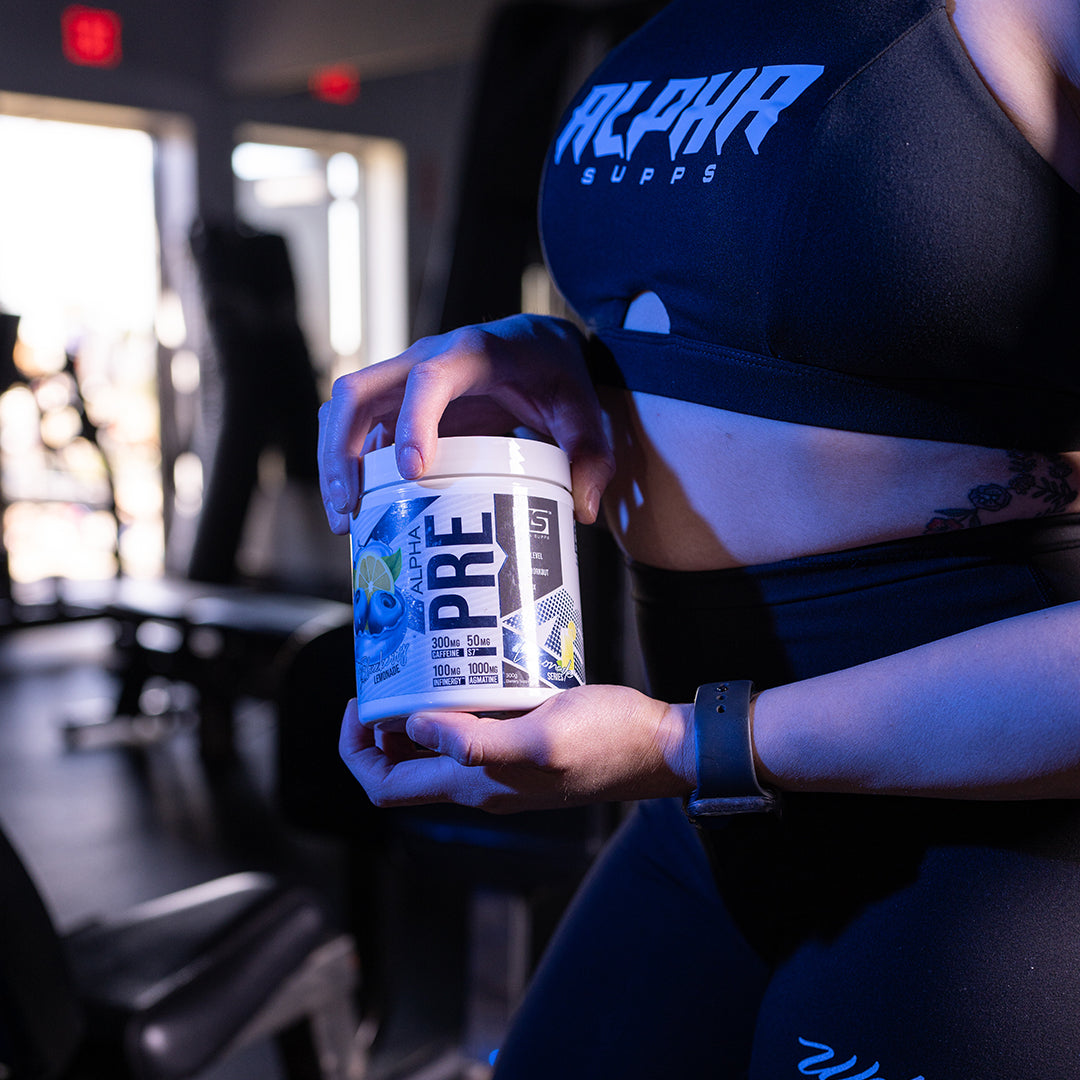 Description
Performing at your best, is something we do not take lightly. We formulated Alpha PRE to get you all the focus, energy, endurance, and stamina you need to absolutely crush your training sessions!

Not only containing 300mg of Caffeine Anyhdrous for clean energy, but accompanied by 100mg of Infinergy for long lasting energy to keep you pushing strong till the very end!*

3,000mg of L-Citrulline boost Nitric Oxide production to increase blood flow. But we've also included a plant-based ingredient that has been clinically shown to increase Nitric Oxide by 230%, and that is S7! S7 perfectly pairs up with L-Citrulline to produce some next level LEGENDARY PUMPS!*
Description Continued
And finally, we've included 2 quality nootropic ingredients to increase mental clarity and sharp focus; Huperzine A and Eria Jarensis. These ingredients have proven their effectiveness for achieving a heighted focus and increased alertness.*

Alpha Supps® PRE has all its bases covered for EVERY ATHLETE, TRAINER, AND PERSON, no matter your training style or exercise!*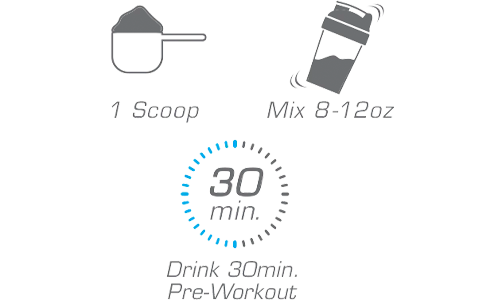 HOW TO USE
*These statements have not been evaluated by the Food and Drug Administration. This product is not intended to diagnose, treat, cure or prevent any disease.
PreWork without the After Fall
Trying the Pre-workouts from AS in 3 flavors. I have had a good energy level and no crash after working out and through out the day. Flavors were good and I even watered down one to check it out by mistake. All around good energy and looking forward to trying it out with PUMP!
The Perfect Pre
Out of all the many Pre-Workouts ive tried throughout my fitness journey Alpha SUPP's ALPHA PRE has reigned at the top.
-IT NEVER MISSES, some pre workouts leave me feeling needing more or not feeling the effect. Ive never had that issue with this one, i get the same effect everytime!
-QUALITY, the flavor and quality of the ingredients are top tier, flavors always pack a good punch and i never have issues coming down from the peak like i do with many of the high end pres on the market.
I've used this Pre- WORKOUT as well as the MULTI & ISO PROTEIN throughout my entire prep for my show and was able to take home the overall championship.
Great energy through my whole workout, no crash! Flavor is so good.
Best Pre in the game
Love the flavor of peach rings. Provides great pump, energy, and no crash.
CandiedTart
Flavor is absolutely amazing taste exactly like candy 😅 and mixes well