Hair Skin & Nails
⊛ Healthy Hair Growth*
⊛ Improves Nail Health*
⊛ Promotes Vibrant Skin*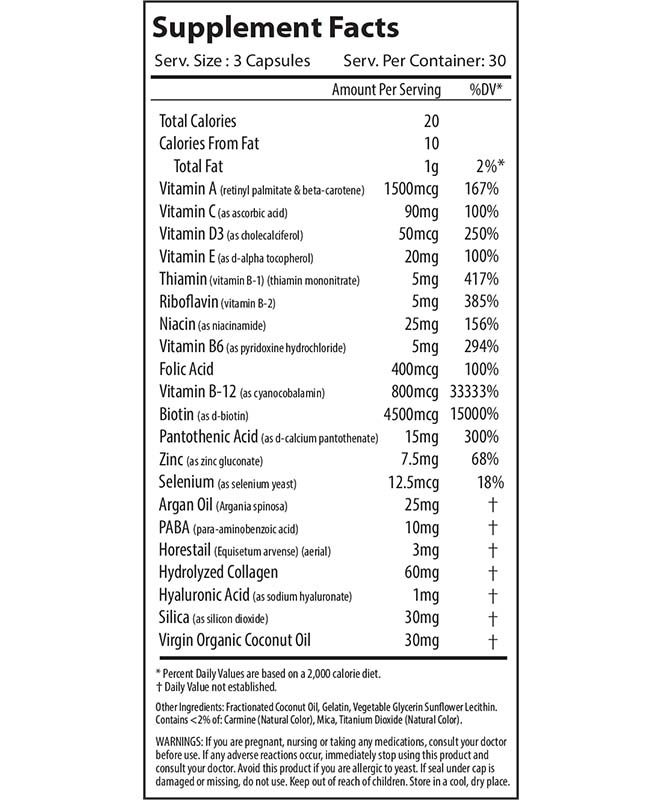 KEY INGREDIENTS
Thiamine:
Thiamine has a direct effect on the condition of hair by increasing a nutrient commonly deficient in persons. It can benefit by strengthening curls, increase hair growth, slowing the appearance of gray hair, increase brightness of color, and saturation of hair.*

Riboflavin:
Riboflavin is a well-absorbed water-soluble vitamin, which has a key role to play in maintaining overall human health. It is important for ensuring proper growth and development of reproductive organs, and the growth of body tissues such as the skin, connective tissue, eyes, and the immune system. Riboflavin also plays a major role in enhancing healthy hair, skin, and nails.*

In addition, Riboflavin plays an important role in the repair of tissues, the healing of wounds, other injuries that can take a long time to fully recover, and boosts the immune system.*

Niacin:
Niacin helps protect skin cells from sun damage, brain health, and skin cancer prevention. Niacin can be sourced from common foods such as yeast, milk, meat, tortillas and cereal grains. But the dosage intake is diet dependent.*

Biotin:
Biotin provides support for daily bodily functions. It also ensures the health of our hair, skin and nails. Those that are deficient in biotin may experience such symptoms as brittle nails, splitting hair that easily breaks, and irritated dry skin.*

Consuming enough biotin also works as a preventative measure, protecting your skin from such conditions as fungal infections and acne, while keeping your skin moisturized and prevents it from cracking.*

Hydrolyzed Collagen:
Hydrolyzed collagen is a type of collagen that can be easily absorbed into the bloodstream. Your typical collagen is vigorously broken down and lessens it's availability to the body.*

With hydrolyzed collagen you're able to fully reap the benefits collagen has to offer. Collagen is known for it's benefits to alleviate joint pain, give skin a more youthful appearance, and improve bone health.*
Description
Unlock the key to healthy hair, improved nails, and vibrant skin with Alpha Supps® Hair Skin & Nails. Often our body suffers from receiving the needed nutrients to thrive with vibrant, healthy, and strong hair skin and nails.*

With the proper nutritional support of vitamins and minerals, you can be looking your best.*
THE ALPHA DIFFERENCE
ALPHA Supps has over 25 years of combined experience in the supplement industry, with a team that carries the same drive and passion for health and fitness. We formulate supplements, not only for athletes and fitness enthusiasts, but for every person with goals alike, that align with your goals in order to CONQUER your day and your goals.
HOW TO USE
*These statements have not been evaluated by the Food and Drug Administration. This product is not intended to diagnose, treat, cure or prevent any disease.
I've tried SO many hair, skin and nails products over the years and this has been the only one to actually give me the results I'm looking for.