Detox
⊛ Total Body Cleanse*
⊛ All Natural Formula*
⊛ Improves Digestion*
⊛ Improves Vitality*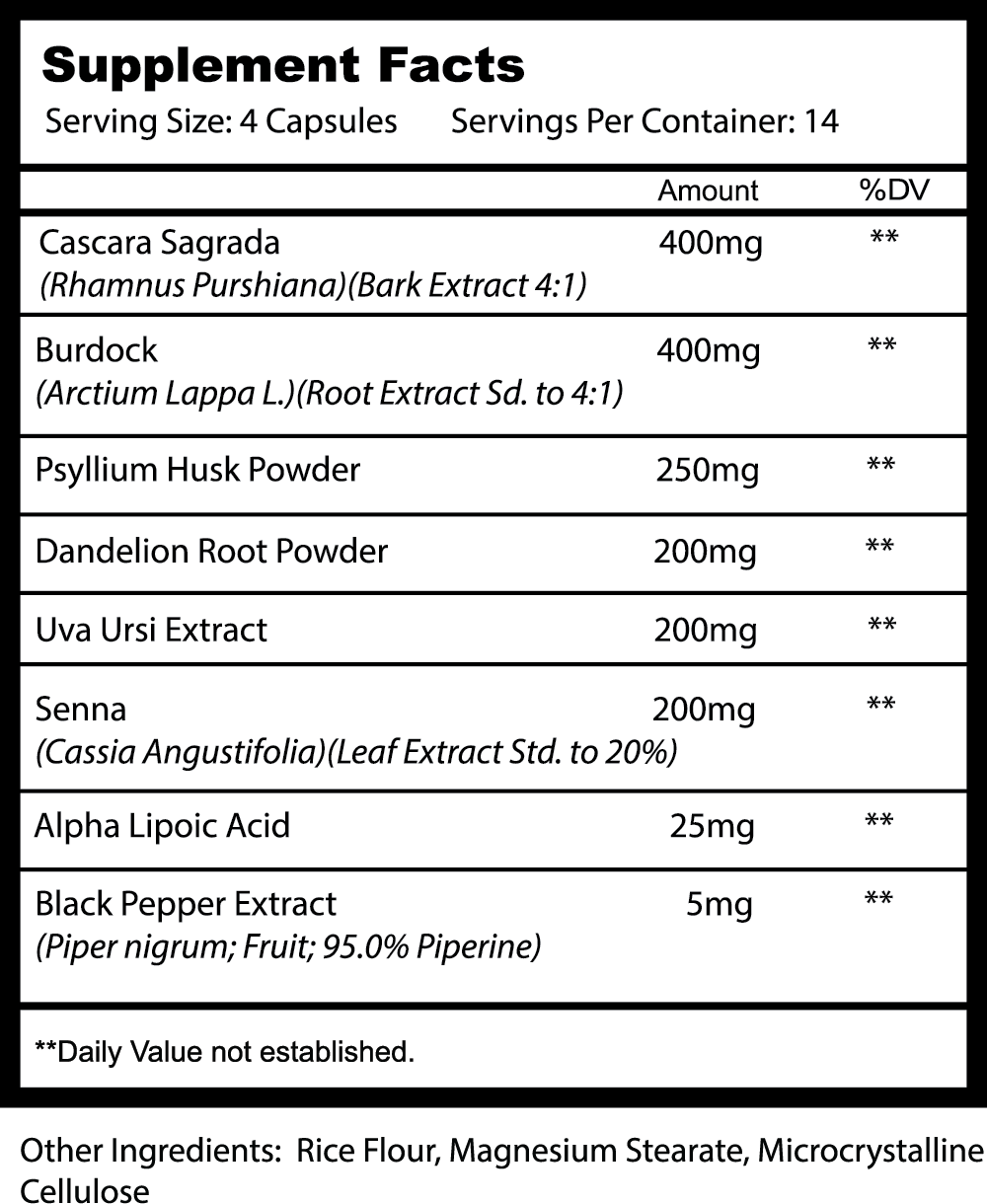 KEY INGREDIENTS
Cascara Sagrada:
This herbal remedy is used commonly in some over the counter laxatives. The bark comes from a tree called California buckthorn. It is a Native American find that treats constipation, digestive problems, joint and muscle pain, and gallstones.*

Cascara Sagrada is a stimulant laxative. It works by causing muscle contractions in the intestines. These contractions help move stool through the bowels. The bark contains chemicals that react with bacteria in the intestines to stimulate the bowels.*

Burdock root:
Burdock root is a vegetable native to Northern Asia and Europe. Burdock root has been shown to contain multiple types of powerful antioxidants, including quercetin, luteolin, and phenolic acids. Antioxidants protect cells in the body from damage due to free radicals. They can help treat and prevent a number of different health conditions.*

One of the most common uses for burdock root has been to purify the blood. Recent evidence has found that burdock root contains active ingredients in its roots system that can remove toxins from the blood stream. Research also found that burdock root effectively detoxified blood and promoted increased circulation in the surface of the skin.*

Psyllium:
Psyllium is a form of fiber made from the husks of the Plantago ovata plant's seeds. It's most commonly known as a laxative. However, research shows that taking psyllium is beneficial to many parts of the human body, including the heart and the pancreas.*

Psyllium is a bulk-forming laxative. This means it soaks up water in your gut and makes bowel movements much easier and can help promote regularity without increasing flatulence. It can be used as a one-off to ease constipation, or it can be added to your diet to help promote regularity and overall digestive health.*

Psyllium is a prebiotic, a substance needed for healthy colonies of probiotics to grow in the gut. Psyllium has the ability to soften your stool provided you drink enough water.*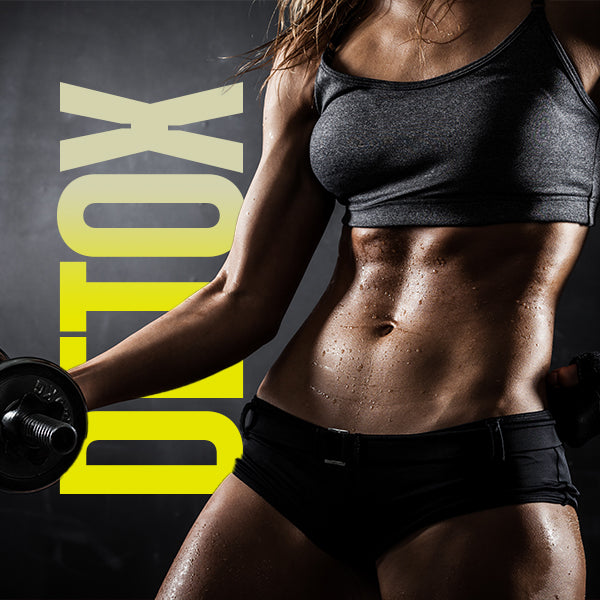 Description
Alpha Supps® Detox is a 14-day total body detox and cleansing formula.* Alpha Supps® Detox uses a powerful blend of herbs and fiber to give you a thorough effective cleansing.*

After the 14 day cleansing cycle, your body will feel revitalized and replenished from the elimination of harmful toxins.* We recommend this to anyone who is constantly feeling lack of energy or anyone who is looking to jump start a new workout program.

Alpha Supps® Detox will reset your metabolic system and gets you ready for the new you.*
THE ALPHA DIFFERENCE
ALPHA Supps has over 25 years of combined experience in the supplement industry, with a team that carries the same drive and passion for health and fitness. We formulate supplements, not only for athletes and fitness enthusiasts, but for every person with goals alike, that align with your goals in order to CONQUER your day and your goals.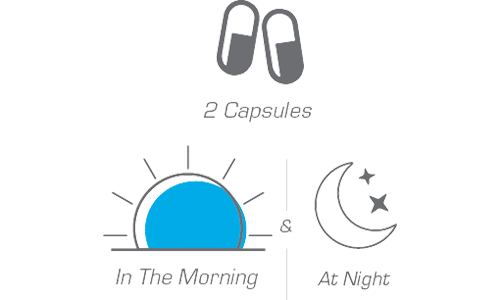 HOW TO USE
*These statements have not been evaluated by the Food and Drug Administration. This product is not intended to diagnose, treat, cure or prevent any disease.
Review for Detox
I love this product! It really detox's you
Detox
Alpha detox is one of the smoothest ones I've tried. Helps relieve bloating without the stomach aches.
My stomach was super bloated. Huge change in my stomach after just 2 days.
I gotta say, I always had trouble with bloating with everything I eat, including veggies. Once I started taking this I absolutely love it. It really works. And I've been working out for about 6 years now. I definitely recommend it!
So I decided to try it out. The pills seem huge but they're very easy to swallow and don't get "stuck" when you swallow them. I suggest starting them on a Friday so you have the weekend because you will go to the bathroom a lot the first few days. But other than that you'll feel more regular. I have gained more energy and I'm about two weeks in. I've lost about 6 pounds so far in this time. Be sure to keep your self hydrated also. All in all, I would 10/10 tell anyone to try this out.