CUTS
⊛ Metabolic Amplifier*
⊛ Provides Clean Energy*
⊛ Promotes Weight Loss*
⊛ Boosts Thermogenesis*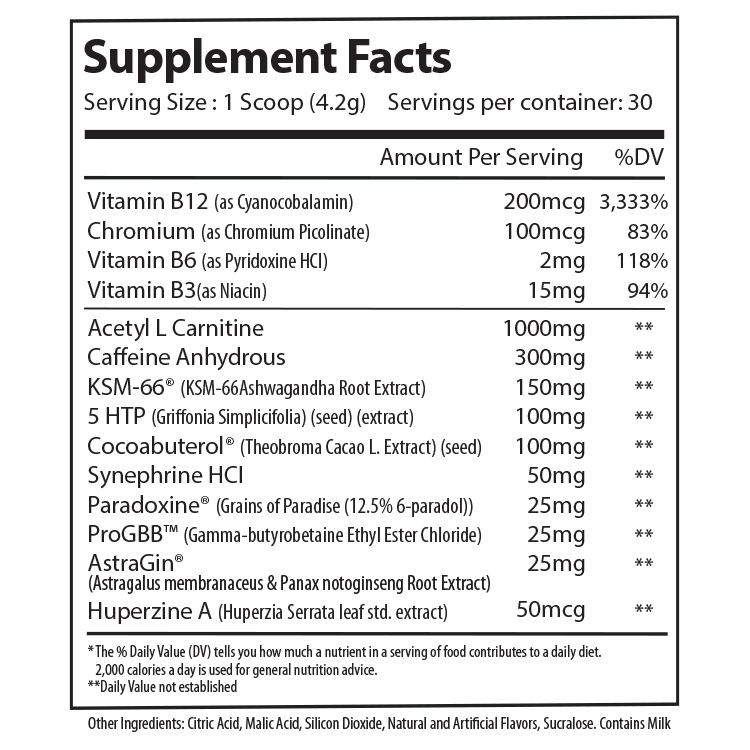 KEY INGREDIENTS
Synephrine HCL:
Synephrine has studies showing it's positive impact on fat burning and weight loss. Synephrine helps increase the body's metabolic rate and increases lipolysis (fat breakdown). It also functions as an alpha-androgenic antagonist. Synephrine works with receptors located in the fat tissue that help enhance the lipolysis within the tissue and with receptors that increase thermogenesis of muscle, which also results in weight loss.*

Paradoxine®:
Paradoxine® is a non-stimulant, mild herbal, weight-loss ingredient that can trigger and boost thermogenesis within the body.*

PROGBB – Super Carnitine from SYNMR:
Trademarked ingredient by SYNMR Biotechnologies
Boosts Carnitine Levels 2 TIMES OVER!*
Increased Cognitive Focus*
Sweat Amplification*

5 HTP:
5 HTP is an amino acid that your body naturally produces, and 5 HTP produces serotonin. Low serotonin levels are associated with depression, anxiety, sleep disorders, weight gain, and other health problems. 5 HTP directly increasing serotonin levels within the body is well studied. Serotonin imbalance can lead to increased depression and is commonly treated with 5 HTP among other anti-depressive medications. 5 HTP may also counter hunger-inducing hormones, working to suppress appetite and help you lose weight. An increase feeling of fullness can cause you to eat less and lose weight. Therefore, increasing your serotonin levels may have various benefits.*

L-Carnitine:
Promoting fat-loss, L-Carnitine is an amino acid derivative that plays a key role in transporting fatty acids to your cells to be burned as energy. This gives you the ability to burn fat by providing it with the ingredient it needs to effectively metabolize stored fat.*

AstraGin:
Both AstraGin and Bioperine are ingredients that aid in the absorption of nutrients for increased nutrient uptake. AstraGin is a patented, natural compound that not only increases absorption, but also reduces inflammation experienced around the intestinal lining.*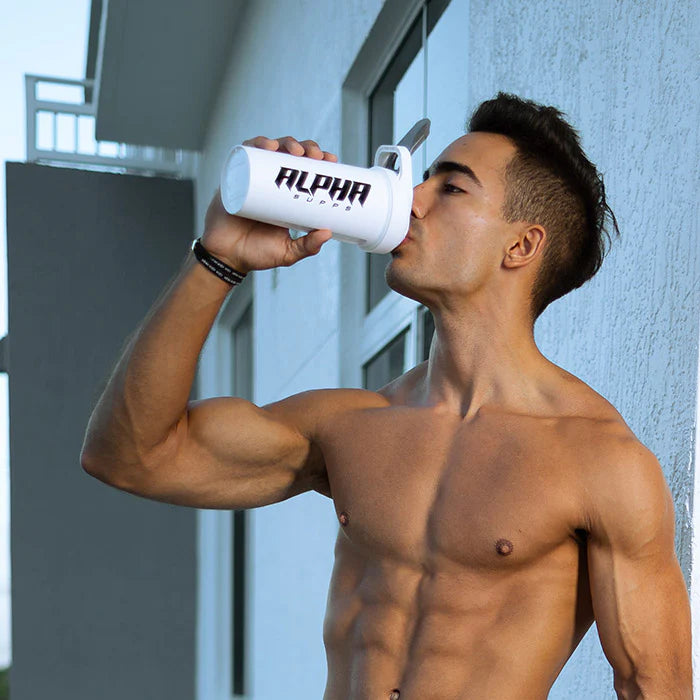 Description
Alpha Supps® CUTS is your answer to an extreme metabolic amplifier.*

When performing any kind of cardio or exercise, you'll want to maximize the time you have and burn the most calories. Cuts was formulated to do just that.

With ingredients like Synephrine HCL, Paradoxine, PROGBB, and L Carnitine, you'll boost thermogenesis and increase fat-burning capabilities like never before.*
THE ALPHA DIFFERENCE
ALPHA Supps has over 25 years of combined experience in the supplement industry, with a team that carries the same drive and passion for health and fitness. We formulate supplements, not only for athletes and fitness enthusiasts, but for every person with goals alike, that align with your goals in order to CONQUER your day and your goals.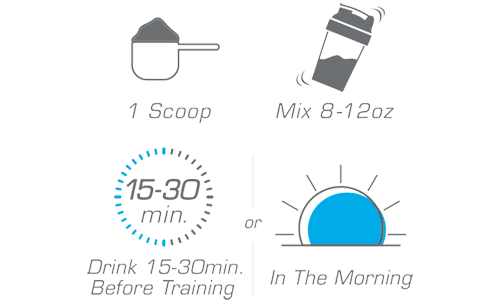 HOW TO USE
*These statements have not been evaluated by the Food and Drug Administration. This product is not intended to diagnose, treat, cure or prevent any disease.
Great Burn
Helps shred fat fast and I love it
Amazing flavor
Has an amazing flavor and you can really feel the difference taking it
Alpha Supps CUTS
Currently is my fav product from Alpha Supps and one of the better thermogenic pre's I've tried by far. Such a good clean energy it provides for my morning workouts and I feel that I'll sustain this clean energy even afterwards. Helps keep the momentum going for the rest of my day.
Enhance your weight loss
Great energy before workouts or during the day.
Helps boost your weight loss
This is hands down my favorite preworkout! I love using it as a energy drink in the morning even on days when I don't workout for an extra boost.