Alpha Iso Protein
⊛ Optimize Recovery*
⊛ Improved Muscle Recovery*
⊛ Supports Muscle Growth*
⊛ Low Fat & Cholesterol
⊛ Ultra Fast Absorption
⊛ Gourmet Flavors
KEY INGREDIENTS
100% WHEY PROTEIN ISOLATE:
ALPHA ISO is our 100% WHEY PROTEIN ISOLATE, providing 25 grams of super-fast digesting protein with unquestionable purity. This source of Whey Protein Isolate ensures that you receive high-quality and fast-digesting protein that you can feel and taste.

PREMIUM PROTEIN WITH INCREDIBLE TASTE:
We take pride in the rich flavors we've developed so you can fully enjoy every scoop. Our unmatched flavor profiles will leave your mouth watering and screaming for more. ALPHA ISO is your PREMIUM PROTEIN with INCREDIBLE taste.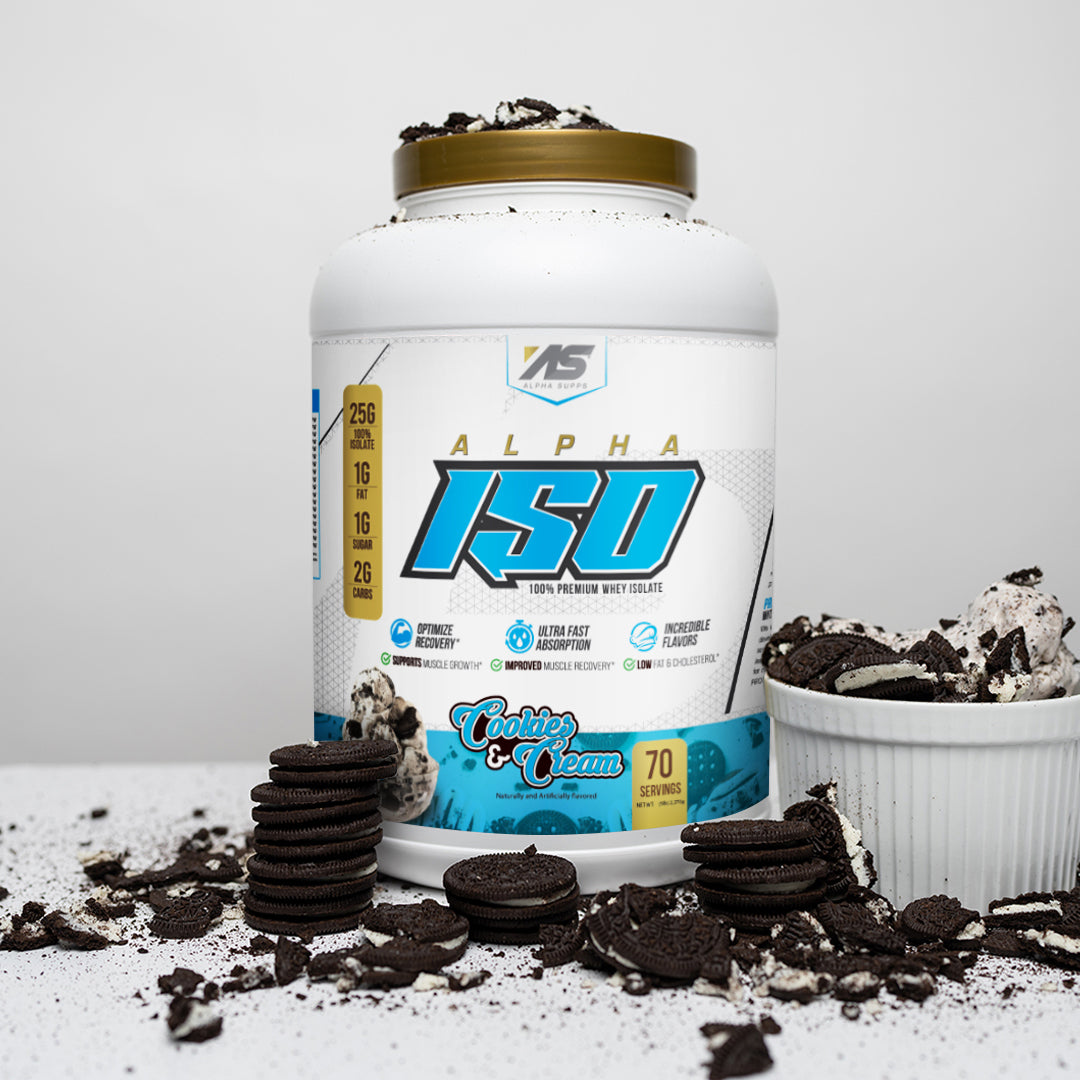 DESCRIPTION
ALPHA ISO is the most remarkably delicious Whey Protein Isolate ever imagined! Built to tackle any of your fitness or nutritional demands. This is the ideal Whey Protein for all your fitness goals. Using this high-quality isolate protein allows for excellent absorption, faster recovery and enjoyable drinkability. Remarkable results and flavors that tastes like magic!
THE ALPHA DIFFERENCE
Alpha ISO is simply muscle-building fuel. No matter if your goal is to build lean muscle, lose weight, or to just be healthier, ALPHA ISO can give you the upper-hand in accomplishing those goals.
HOW TO USE
*These statements have not been evaluated by the Food and Drug Administration. This product is not intended to diagnose, treat, cure or prevent any disease.
ISO Protein in Vanilla and good
I'm kinda of a crazy person when it comes to protein. The Vanilla Ice Cream didn't disappoint. Mixed well in just water and went down easy. Didn't leave me feeling bloated or upset stomach. Tried it in a shake both with berries and then with peanut and mixed and still tasted great.
Protein
Cookies & cream is by far my favorite flavor it's sweet but not too sweet mixes very well
Alpha iso protein
When I got my hands on the alpha iso chocolate peanut butter and tried in the morning man I really liked the flavor it's my favorite protein to use everyday in the morning with my breakfast 🤩❤️